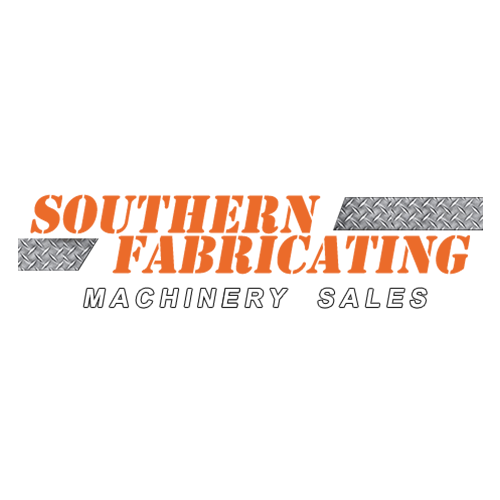 Posted By: Southern Fabricating Machinery Sales | Posted On: July 12, 2021
How to Choose the Right Press Brake for Fast, Efficient Production
If you are thinking of buying a press brake, or are in the market already shopping for a press brake, then take a moment to read these important notes about what you should first consider. Even before you start shopping for a press brake you need to know what 'type' of press brake you will need and the features and options that you will most benefit from. Don't expect your machinery sales rep to know what you need or even if their offering is capable of it. Take the time to perform due diligence yourself in your shop to make sure you know exactly what you need out of the machine you're looking for. It will make buying a press brake much easier.
What Is a Press Brake?
Let's start of with a brief description of what a press brake is versus other forms of metal working machinery. A press brake is a machine toll designed to bend or fold sheets of metal using a combination of tooling in the upper ram and lower bed sections. The machine controls the distance between the upper and lower tool sets through manual or CNC controls bringing the tool stets, with the material between close enough to bend the material to the desired shape plus accounting for a little material spring back. The most common applications for a press brake are fabricated metal part forming including electrical boxes, enclosures, signs, and many other sheet metal fabricated components.
In a previous article we discussed deciding between a press brake and a folder. That article entitled Folders or Press Brakes? How to Choose defined metal folding and summarized the differences between the two processes of metal bending. It's important to bring this article up as too often fabricators overlook the accuracy and versatility of a folder with the preconceived notion of "I need a press brake."
Assuming you have defined that buying a press brake is indeed your solution, then there are critical questions you need to answer. While there are many solutions in press brakes there will only be a few, that in the end, meet your demands and and budget. Whether you choose Mechanical, Hydraulic, Electric or Hybrid drive technologies all depends on the needs you have that are unique to your shop. Grab a notepad and take a few minutes to note these important questions, and most importantly your answers BEFORE You begin that press brake search.
Start off with just some general notes about how you are forming parts now. What are the biggest weaknesses and limitations you have with that process? What would you most like to improve in that process? Finally, what motivates you to shop for a press brake? Although there are many reasons to buy a new or used press brake think about your specific needs is it...
More Capacity in Tonnage
Longer Bed
Reduce Setup Times
Reduce Maintenance
Improve Safety
Easier to Use
Improved Part Accuracy/Reduce Scrap
Remember when your shopping for any machinery to use the 80/20 Rule of Machinery Buying: Buy a machine for 80% of what you KNOW you will be running in it and DO NOT chase the elusive 20% of what you might run in it a few times a year. If your application is suited for a 10 gauge mild steel machine, then planning for the capability to run ½" X 10' plate will double or triple the machine size and thus your investment. If you only run that material a few times a year your better off sending it out. - GOAL: Know your current situation and focus on the reason you're buying a press brake.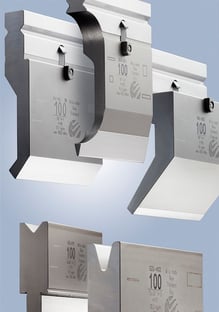 Tooling: What type of tooling are you using now? The type of tooling your using in your press brake currently (assuming you have one) is important as you would like your new press brake to be able to use the same tools, however DO NOT limit your machinery selection based on your desire to use a few old worn out tools. Different tool types include American Style, European Style, Trumpf Style, Amada Style etc. These tools can be manufactured using a cold planed process, non-hardened (or flame tip hardening on the wear edges only) where accuracy is only +/-0.003 p/foot. Adversely you may be running segmented hardened and ground precision tools with a repeatable accuracy of better than +/-0.0005" p/foot. These tools can also be 90° for bottom bending or 85° angles for air bending. Knowing what you have to start with helps greatly with your decision down the road. - GOAL: Determine Tooling Style Desired (but again, not required) on the new press brake.
Common Types of Press Brakes
There are 2 main types of press brakes and several ways they are driven. The two main types are:
Down Acting; The vast majority of machines are of the down acting design. This refers to the upper tool set being driven up/down.

Up Acting; Just the opposite of the above, the up acting brake moves the bed up towards a fixed and static punch.
The ways these press brakes can be driven is either Mechanically through a flywheel/clutch design, Hydraulically, or Electronically through belts or balls crews.
How to Choose the Right Press Brakes For Your Shop
Choosing the right press brake for your shop can be a difficult task with so many makes, models, sizes and options available. It is best to gain a good understanding of these machines and their features before you begin shopping in order to avoid being sold unnecessary options or worse, under equipping your machine. Before that search begins you need to identify the critically important things to your needs;
Materials you will be processing including types and thickness
Maximum width that you will need to form and that you will need to fit through the press brake
Complexity of bends as the more bends in your parts, the more need you have for additional axis on the brake to help gage your parts accurately.
Accuracy of bends required as different machines equipped with different options as well as tooling can provide much more precise results.
Quantities of parts needed as CNC controls and functions can greatly improve repetitive jobs.
Operator Skill Level needs to be assessed as the less skilled the operator the MORE you should be relying on a CNC control to calculate the bends and sequences of bends.
Material Type & Thickness
What is the hardest and thickest material you would like to run in your new press brake? Press brakes are usually classified by their ability to bend mild steel as all of their bending charts denote, but remember, anything thicker than 14 gauge today is A36 and thus much harder and actually closer to the forming properties of stainless steel. There are plenty of bending charts to help you determine the actual tonnage you need including ours linked right HERE. Also remember to size your press brake to only 80% of the capacity required as working any machinery at 100% capacity will wear it very quickly. - GOAL: Determine Tonnage Needed
Maximum Material Length
What is the maximum material width you will need to bend and what is the maximum flanges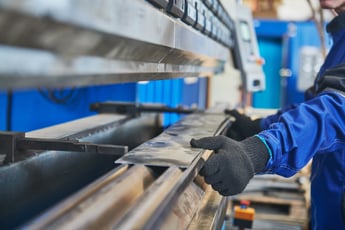 you will be bending. These two questions are critical in determining the overall bending length you will need on a press brake. If your bending up to 10" of material but your flange is 12" then you likely need to move up to a 12' wide bed so you can pass 10' of material completely through the press brake. - GOAL: Determine Press Brake Width Needed.
Complexity of Bends
If your bending simple 90°'s your perfectly suited for a simple CNC 2-Axis machine (X-Axis only on gauge). However, if your bending complex electronic enclosures, internal support brackets etc that have complex and angled bends your likely suited for a much more sophisticated gaging system and control on your machine. Backgauges can be equipped from 1-6 axes and more with additional gauge fingers etc. Although the most popular setup is a simple 3-Axis setup (actually 4 with Y1, Y2, X & R), your needs may require or benefit from adding additional axis to the backgauge and a more powerful and graphical controller. All these extra axis' add a level of complexity to the press brake BUT they also add a great deal of maneuverability and capability too. - GOAL: Determine Control and Gaging System Required
Accuracy of Bend
Part accuracy on a press brake is a combination of handling many factors in the material you're working with including material hardness, yield strength and springback. How the press brake is outfitted determines how it handles a variety of material deviations AND the final part accuracy. Typically the thinner the materials you're working with the more pronounced the forming defects will be and this you will have a need to compensate for them. Your first approach should be to use good precision ground tooling that repeats each and every time you load it in the machine. Secondly, you can look at adding a manual or CNC Crowning device which replaces the need to shim the dieset. Lastly you can investigate many angle measuring devices from gauges in the fingers (Trumpf) to Laser Angle Measuring devices that measure the resulting bend angle in real time but be careful when considering these add-on accuracy devices as they are known to work great in the demo center and fail miserably on the shop floor. - GOAL: Determine Tooling Required and Manual or CNC Crowning Required.
Number of Parts Required Per Day
Whether your a small job shop, or a high production manufacturer, the number of parts required per day can determine not only how the press brake is equipped but how its loaded as well. When buying a press brake you need to know how quickly you can produce quality parts by hand and/or if automation is needed. - GOAL: Determine if Robotics or other Automation is needed.
Number of Part/Tooling Changeouts Required Per Day
If you run the same parts (or the same toolset) day in and out then you would likely not benefit from some of the enhanced tool handling features available on today's press brakes. However if you are changing tooling out 3-5X a day or more on your press brake, or plan too then you definitely need to consider the productivity enhancements that will be achieved with features like Hydraulic Ram Clamping and Hydraulic Die Clamping. These features along with Precision Ground Segmented tooling can reduce your tooling changeout time from 10-15 minutes to just a few seconds. AND with the right setup on your press brake, the tool is automatically seated too eliminating the need to run the tool into the die to "seat" it - GOAL: Determine Hydraulic Clamping and Precision Tooling Needs.
Press Brake Operator Skill Level
Lastly when your buying a press brake you need to consider the skill level you have available to work with. Typically you will find that the more powerful the control, the less skilled the operator needs to be. Yes, that is correct, the more powerful the control the less skill you need from your operator as the control does much more "thinking" (calculations) for you. Controls today calculate for bend allowance, set pinch points, gage points and bend sequences all automatically taking a ton of setup time off the operator or better yet, your lead fabricator. The more control you add to the press brake the easier it is to set up and make good parts the first time and every time. - GOAL: Determine the control type needed.
Shop Southern Fabricating Machinery Sales
Once you have the answers to these questions you are ready to start your press brake search. If your unsure about what these options are, you can read more about Press Brake basics right HERE in our Introduction to Press Brakes booklet which is packed with tons of useful information. When your ready to call make us your first call at 1-813-444-4555 as the team at Southern Fabricating Machinery Sales are experts in metal forming technologies and we look forward to helping you pick the right press brake for your needs AND budget whether it's a NEW or USED press brake solution. Also checkout our press brake inspection checklist below that is free to you to use.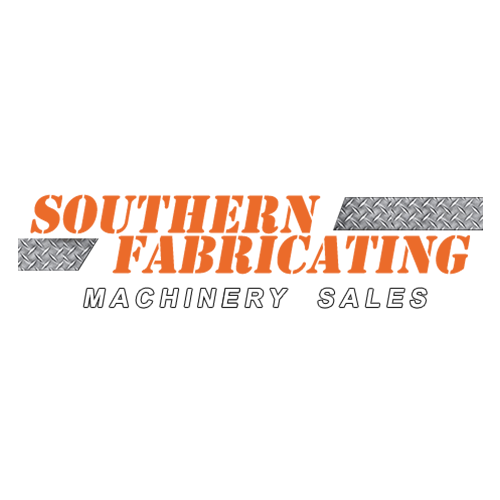 Southern Fabricating Machinery Sales
Southern Fabricating Machinery Sales (SFMS) has been an expert in buying, selling, and brokering used machinery and used industrial equipment since the 1980's. We work in and with machine shops, tool dies, mold and fab shops just like yours, running the very machinery we now offer as solutions for your manufacturing needs!