The versatility of the 9.5"
X 40'
Capacity 3D Cutting System from BLM GROUP is fully automated for production 3D Tube processing. Available in CO2 or Fiber Laser Technologies to meet your unique demands the BLM LT8.10 3D Laser is perfectly designed to bring
efficient &
exacting production tube processing to the shop floor.
Fully Automated Tube Bundle Loader

Tilting 3D Laser head +/- 45°

Configured with one or two bundle loaders, or a single bar or step-by-step

loaders at either the front and rear of the machine.

No tooling changeover.

Motorized unloading table collects and discharges finished parts without cutting interruption.

Single bar loader, for loading of individual bars and open profiles, provides the ability to

momentarily interrupt the manufacturing process to a cut a different job & stock then quickly return to production.

Part unloading is fully-programmable. Dividing unloading by part type allows part collection to proceed without interruption.

Available in CO2 or Fiber Laser Technologies
Artube Software is the 3D CAD/CAM software for designing and programming tubular parts. It automatically maximizes the productivity of every BLM GROUP Lasertube.
Capabilities:
Diameters: 0.5" - 9.5" (12-240 mm)
Square/Rectangular Tubes: 8" (200mm) Max.
Bar Weight: 27 lb/ft. (40 kg/m ) Max.
Open Profiles/Special Shaped Sections Acceptable

U

nloading Lengths: 15 or 21' or 28' (4.5 or 6.5 or 8.5 m)

Loading Lengths: 21' or 28' or 40' (6.5 or 8.5 or 12.5 m)
Power Source Types Available: CO2 or Fiber
Power Available: Fiber; 3KW or 4KW, CO2 3.5KW

(higher output powers available on request)
Cutting Head: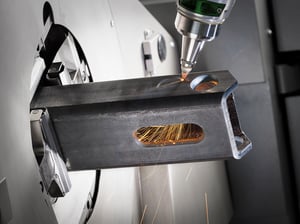 The thermally efficient cutting head has sensitive internal sensors which monitor cutting quality. Combined with longer tapered section to increase accessibility on open profiles and special shaped sections this cutting head is like no other. This unique design increases productivity, reliability and robustness in the continuous processing of tubes and sections of all shapes and sizes.
Controller:
To satisfy the diverse needs and to provide the best performance in all applications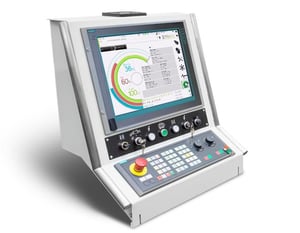 requires the right control functions and flexibility. This array of functions is made available by applying the best ergonomic criteria (meaning you can find the function you need right away exactly where you would expect to find it!). This easy to learn system system offers access to the appropriate options while hiding the ones which are not pertinent.
On Board Help: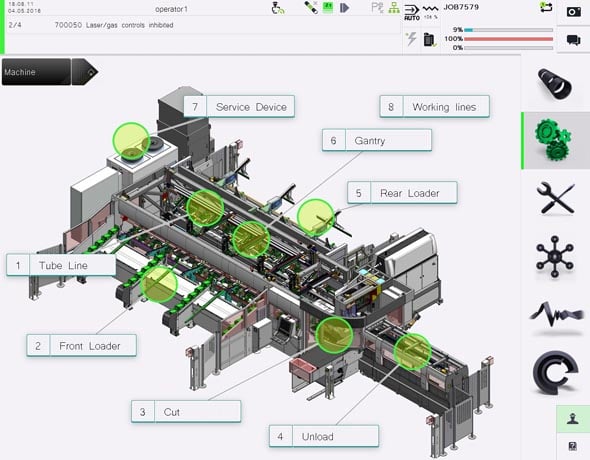 All instructions for machine use and routine maintenance procedures can be seen on the operator console with videos and through step by step guided instructions. Any operator can run the system and ensure the highest levels of efficiency.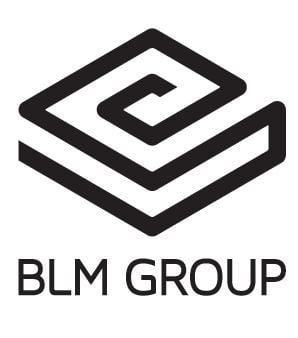 Southern Fabricating Machinery Sales, Inc is the exclusive distributor for BLM GROUP products in Florida and Puerto Rico. Together our team of manufacturing experts offers comprehensive solutions to metal fabricating, meeting the exacting needs of accuracy, production, software and service that cannot be offered by any other manufacturer. Call us today to see how we can help you achieve your manufacturing goals together.
Sold