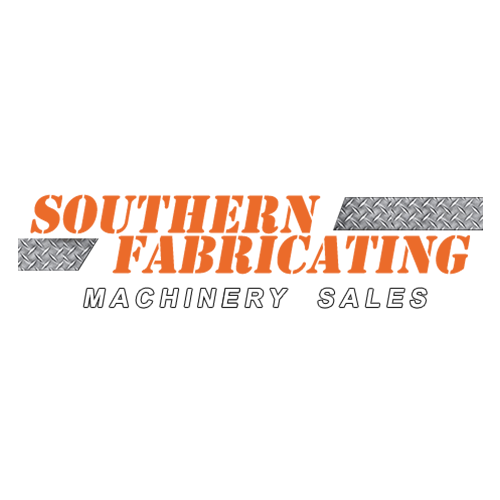 Posted By: Southern Fabricating Machinery Sales | Posted On: January 29, 2019
What's Driving Press Brakes?
For many years the standard in sheet metal forming has been the press brake. Originally conceived as a mechanically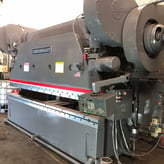 flywheel driven machine it has evolved much like other technologies over the years. As early as the 1950's Hydraulics were used to drive the press brake's ram thereby increasing the forming power and eventually became the preferred method of powering the press brake. Hydraulics gave several new advantages over the mechanical design but gave up a few of the features that the mechanical design provided.
Control: Hydraulics gave us Controllable Bending Speeds,
Safety: Hydraulics also allowed for the safety of automatic Ram reversal and hydraulic safety "blow out" valves to prevent over tonnage and a press brake "lock-up" scenario so common with the mechanical design.
Cost: Hydraulics also were simply cheaper to build with as the components generated great force vs.weight.
Adversely we gave up speed of the ram that the mechanical design provided and the rigidity of the all metal Full contact drive system.
Over the years more and more advances in hydraulic technology allowed for the new electronic feedback/driven servo controlled hydraulics. With the combination of CNC technology we were now able to precisely control the ram position and thus move into a new era of metal forming: Air- Bending. We could now control and produce multiple part angles in a single setup by using tooling with an angle greater than 90 degrees. This greatly improved our productivity and reduced our setup time.
Hybrid Technology: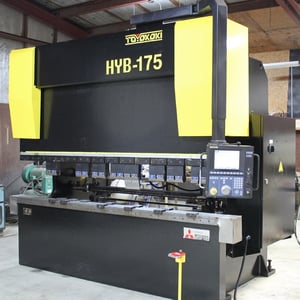 In the early 2000's a new technology for driving the press brakes ram emerged: Hybrid Technology. Hybrid drive systems in press brakes is somewhat like that of a hybrid car. There is a mix of electronic and hydraulic systems that allow the machine to be much more responsive while maintaining a higher degree of accuracy than a traditional hydraulic press brake system. Reducing cycle times by 30% or more while maintaining a high degree of accuracy these systems.
These hybrid electric machines positioning accuracy demand a tighter tolerance and more precise tool and thus require precision-ground tooling as well as a large clamping area (like New-Standard style Wila tooling) for any kind of assured repeatable performance.
Other advantages of Hybrid Technology Press Brakes:
Green. Up to a 60% energy savings while in standby and a 45% savings during forming with a likely total of 60% savings over one hour with 15 press cycles. That's a very big deal when you are looking at saving energy and operating costs.

Quiet: when it's in standby mode and not moving, the hydraulics are not running

Oil (Less - well almost): A great benefit is the reduction in size of the hydraulic oil tank. INstead of Instead of a standard 80 gallons of rmore, hydraulic machines require the Hybrid machines use as little as 20 Gallons

Accurate: Because each side of the Hybrid press brake is independently operated by its own hydraulic system, It is an on demand direct drive system. It's very fast, accurate and repeatable.

Safe: Most hybrid machines are incorporating a great deal of safety into their designs including interactive light curtains, Lasers and other features to improve operator safety while also decreasing the part processing time.

Affordable: While still not the least expensive option, the Hybrid brake technology allows for a more efficient design and therefore a system costing less than some if its full electric counterparts.

Flexible: Large Range of Tonnages available
All Electric: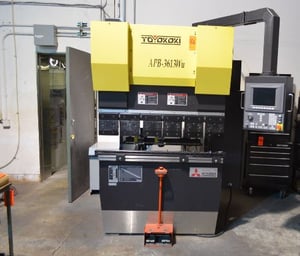 Some of the newest technology is the all electric press brake brakes. These systems are very Fast and efficient, utilizing electric motors that drive the ram up and down. These electric drive systems can be attached directly to a drive screw (like the original Toyo-Koki designed machines) or by way of a timing belt (like the Safan Design). Although limited in tonnage to under 300 tons currently due to electrical servo motor design constraints, some manufacturers have added a series of pulleys as a force multiplier to their design (i.e. Safan). This mechanism also reduces the need for a crowning or other anti deflection device.
Like its sister the Hybrid designed machine, these electric machines accuracy demand a tighter tolerance tool and thus require precision-ground tooling for any kind of assured repeatable performance. These machines have bring some innovative and new features like:
Electric Power: No oil = No oil cooling, No oil filtration and No oil mess!

Lower Energy Consumption: Up to 50% less than hydraulic press brakes

Precise: High Precision

Fast: High speed (up to 35% faster than hydraulic systems).

Quite: Less noise with no hydraulics whining away.

Less Maintenance: Less is More when it comes to maintenance costs.

Eco Friendly: Less power consumption combined with an oil less design make they all electric design very Eco-Friendly.
Whether its Mechanical, Hydraulic, Hybrid or Electric driving the force behind your press brake, your goal is to make quality parts in the least amount of time. At Southern Fabricating Machinery Sales, Inc. we are press brake and bending experts and can help you select the right machine, and tooling for your application AND budget. Give us a call today at 813-444-4555, or visit us on the web at www.southernfabsales.com
Click HERE to read more great articles about Press Brakes!
Click HERE to see currently available Press Brakes from Southern Fabricating Machinery Sales.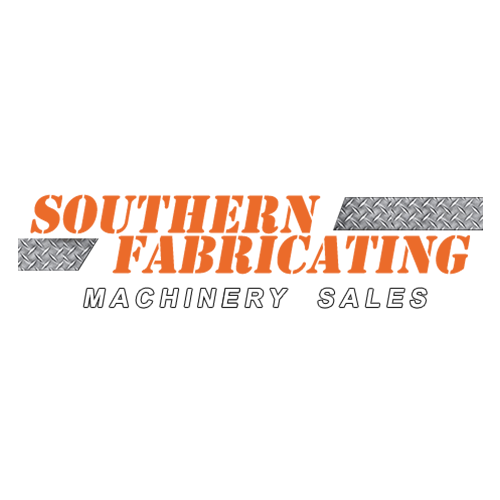 Southern Fabricating Machinery Sales
Southern Fabricating Machinery Sales (SFMS) has been an expert in buying, selling, and brokering used machinery and used industrial equipment since the 1980's. We work in and with machine shops, tool dies, mold and fab shops just like yours, running the very machinery we now offer as solutions for your manufacturing needs!