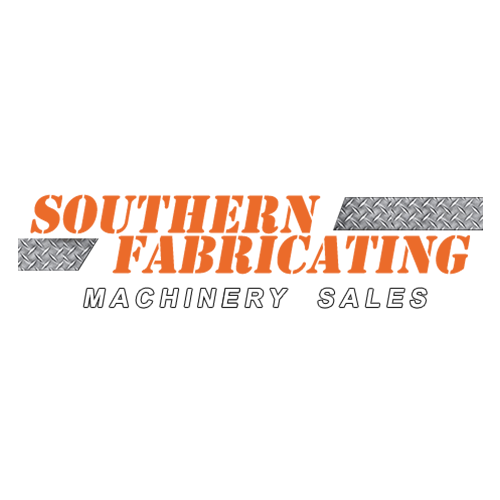 Posted By: Southern Fabricating Machinery Sales | Posted On: May 28, 2019
What is a Coping Machine?
Structural Fab Machinery ,
Fabrication Machinery
In the metalworking industry we use a common term called "Coping" to describe the process of cutting reliefs into parts thus allowing for proper fitting of other sections. The methods we in the steel fabrication business consists of Steel Beam Coping and Tube and Pipe Coping. These cutting methods are used not only in structural steel fabrication but also many other forms of manufacturing such as roll cages for race cars, stairwell handrails and so much more. In both of these processes it is necessary to "Cope" material in order to fit it correctly for assembly with other components at normal or abnormal angles. There are several methods to achieve this goal depending on whether you are coping a tube for manufacturer of something like a bumper for an off road truck or whether your coping structural steel beams in steel building construction.
Tube/Pipe Coping
The first type of "Coping" that most fabricators will work with is Tube and Pipe Coping. There are several methods available to cut/carve reliefs in to tube and pipe depending on the accuracy desired, number of components needed and of course the machinery investment made.
Manual Method - Manual forms of Pipe Coping include a belt grinding system equipped with an adjustable angled vise, a milling cutter equipped with the same variable angle vise, a punching system and the more efficient methods of methods of oxy-fuel or plasma cutting. Each of these methods requires a manual setup and only one relief at a time may be produced.
CNC Tube Coping - A CNC Tube Coping Machine makes the process automated allowing for higher production rates, greater accuracy and repeatability between sections. As the machine is controlled via a computer, the designs are direct from CAD (Computer Aided Design) system and likely in fact, have come from a solid model ensuring that the cuts and angles programmed will fit up perfectly once cut (provided the machinery is operated correctly).
Tube Lasers - Some of the newest technology with the capability to cut tubing, squares angles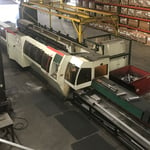 and structural segments to exacting tolerances are Tube Lasers. Tube Lasers utilize the same 3D Solid modeled files that the engineers and designers originally conceived their designs with and produce relefs, cutouts, holes and just about any other shape imaginable in the material being processed. As these machines are so productive (and albeit expensive) they are typically equipped with automated loading and unloading systems allowing for the continuous operation of the machine throughout the workday and night.
Steel Beam Coping
In another type of "Coping" is the "Steel Beam Coping Machine". Structural Fabrication requires the assembly of I-Beams, Angles, Pipe, Bar, Plats, Gussets etc, etc. In order to make all these various segments connect properly certain reliefs need to be cut in the web and flanges of structural beams.
Structural Steel Coping - Manual Method: In steel beam coping the simplest way is by using a hand held oxy-acetylene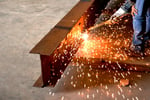 or plasma torch to cut reliefs. By laytojing out the beam by hand the engineer or layout man can draw directly on the beam the relief cutouts required. Later with a torch in hand the fabricator can cut steel segments off to ensure proper fit with later joining members.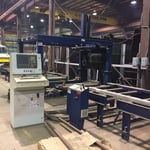 CNC Steel Beam Coping - Like its cousin in tube and pipe coping the Structural Fabrication CNC Coping Machine is capable of taking CAD designs and interpreting them into direct machinery movements providing for exacting and repeating precision. Typically found in the larger Steel Fabrication Shops these machines are used to cut beams for use in every type of steel framed building construction from warehouses to high rises.

Whether you need a simple pipe coping machine or a more complex CNC Tube Laser or Structural Fabrication Beam Coping System, Southern Fabricating Machinery Sales has the expertise and knowledge to assist you in picking the right machine for your needs and budget. Give us a call to day at 813-444-4555 or visit us on the web at www.southernfabsales.com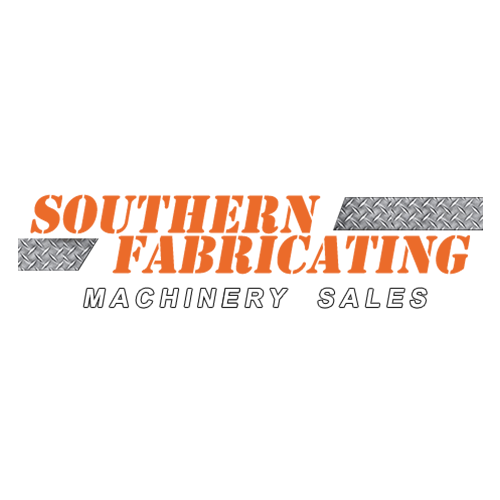 Southern Fabricating Machinery Sales
Southern Fabricating Machinery Sales (SFMS) has been an expert in buying, selling, and brokering used machinery and used industrial equipment since the 1980's. We work in and with machine shops, tool dies, mold and fab shops just like yours, running the very machinery we now offer as solutions for your manufacturing needs!