Getting Ready to Sell Your Used Equipment?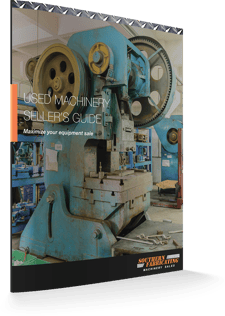 Whether you need to clear some space on your production floor or just want to clear out some excess equipment, you're getting ready to sell your used machinery. Congratulations!
However, what's the best way to sell that machinery so you can clear your shop floor as quickly as possible while also getting the best deal? Before you try to sell your used equipment on your own, check out our free Used Machinery Seller's Guide!
In the guide, you'll find overviews of three different selling options:
Immediate Purchase. When a machinery dealer (like SFMS) buys your equipment immediately to resell later.
Consignment Sales. Offering your machinery for sale through a machinery dealer and leveraging their contacts to complete the sale.
Do-it-Yourself Selling. Independently marketing your equipment for sale through your own contacts.
The guide covers the pros and cons of each method, and why you should or shouldn't follow a given strategy.
Get the guide for free right now by filling out the form on this page!